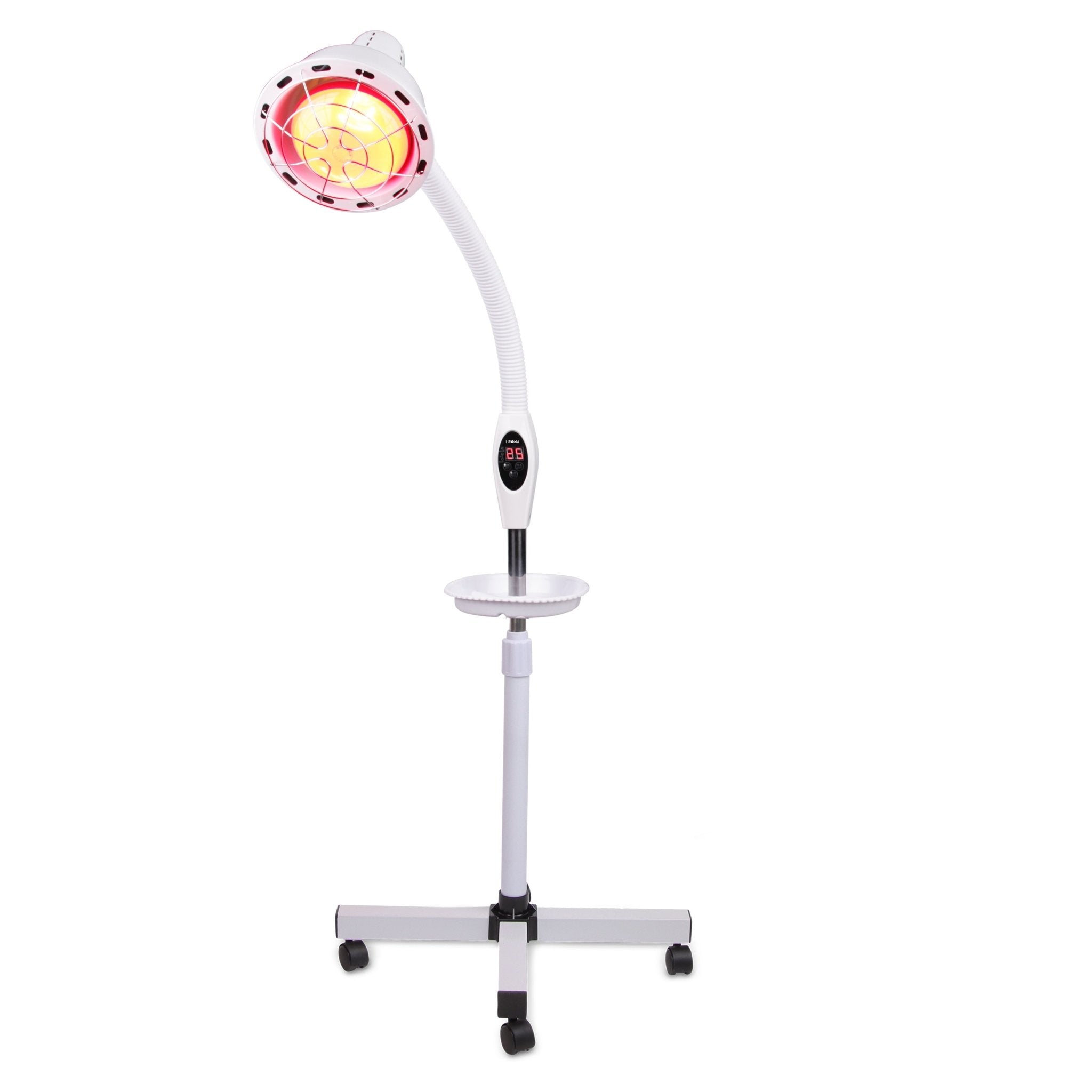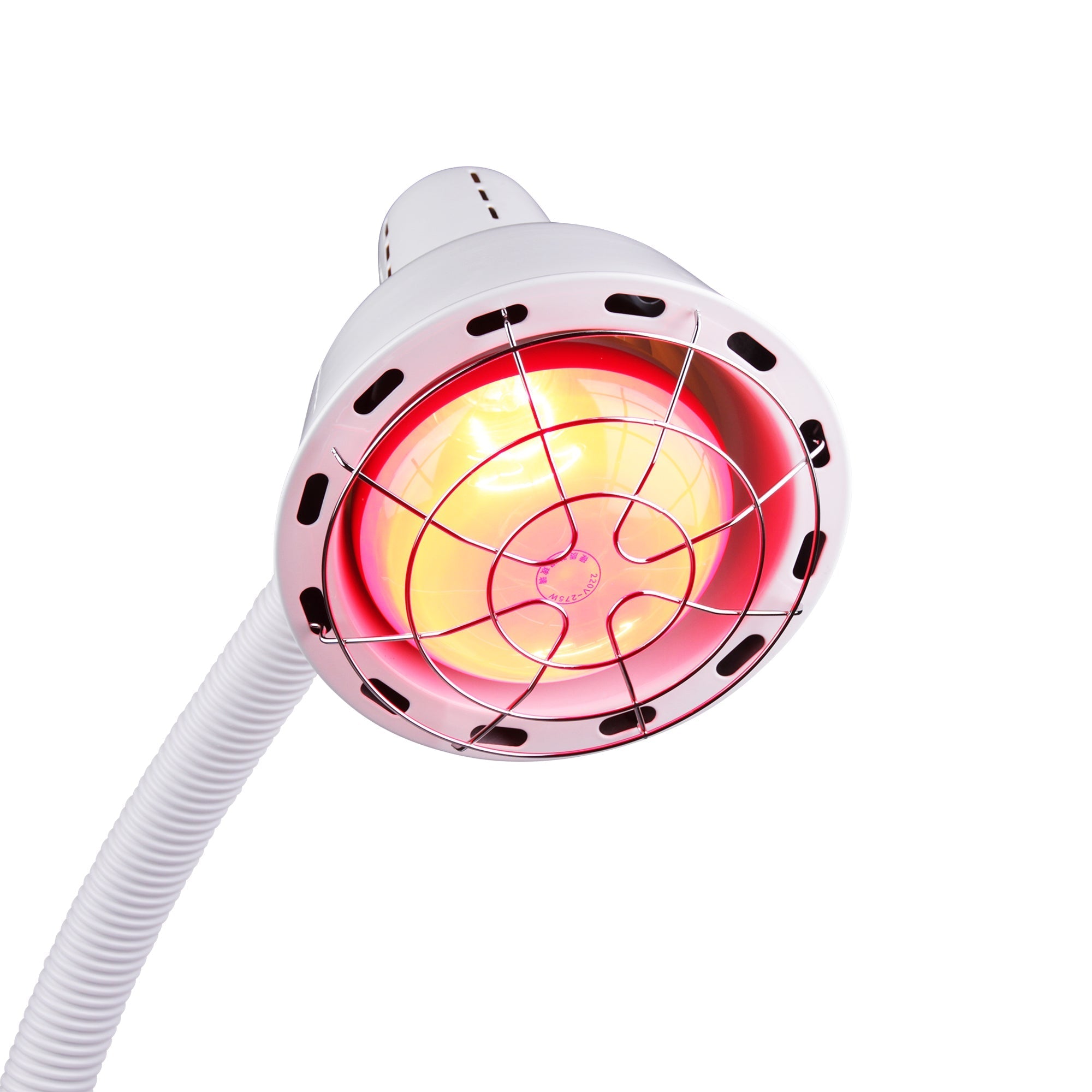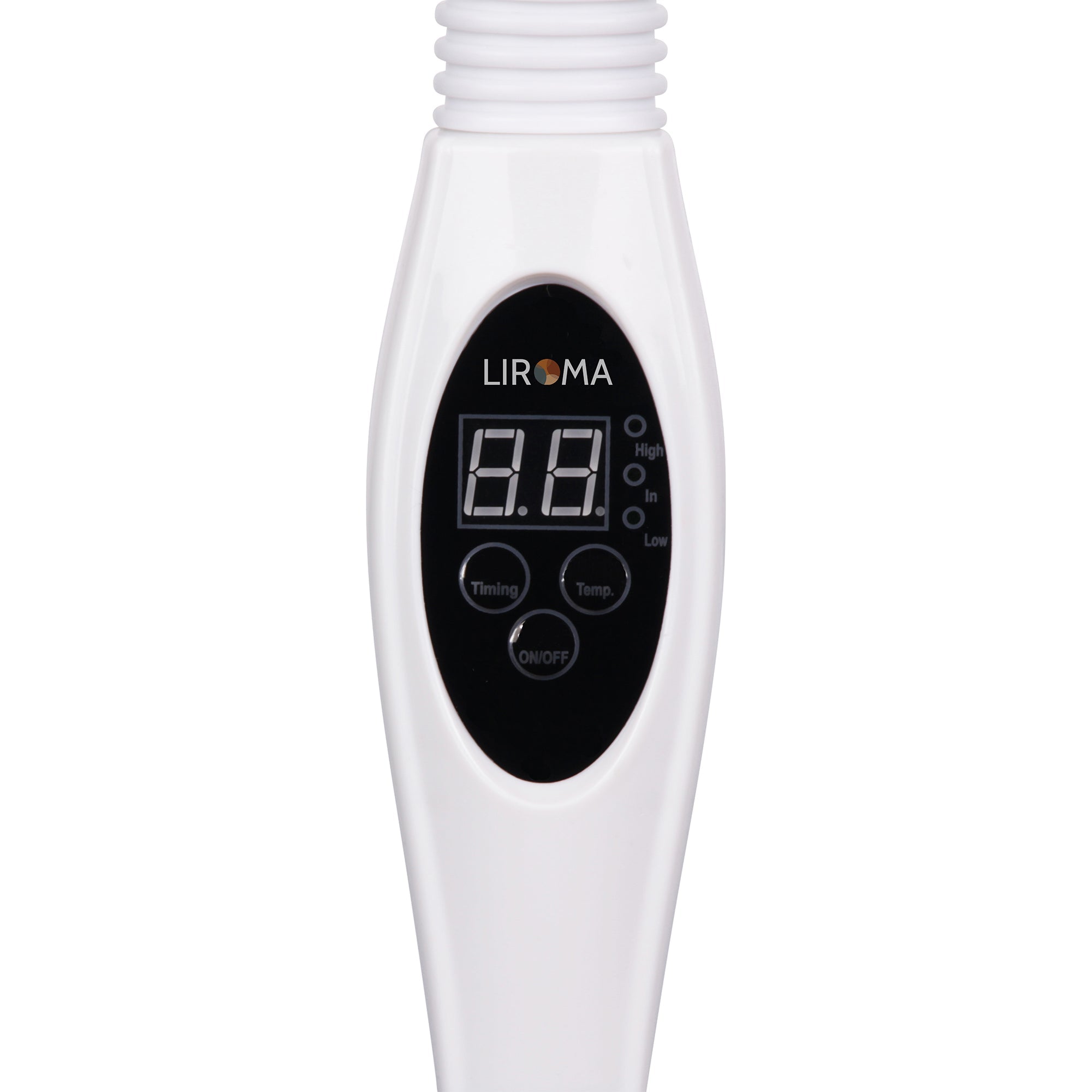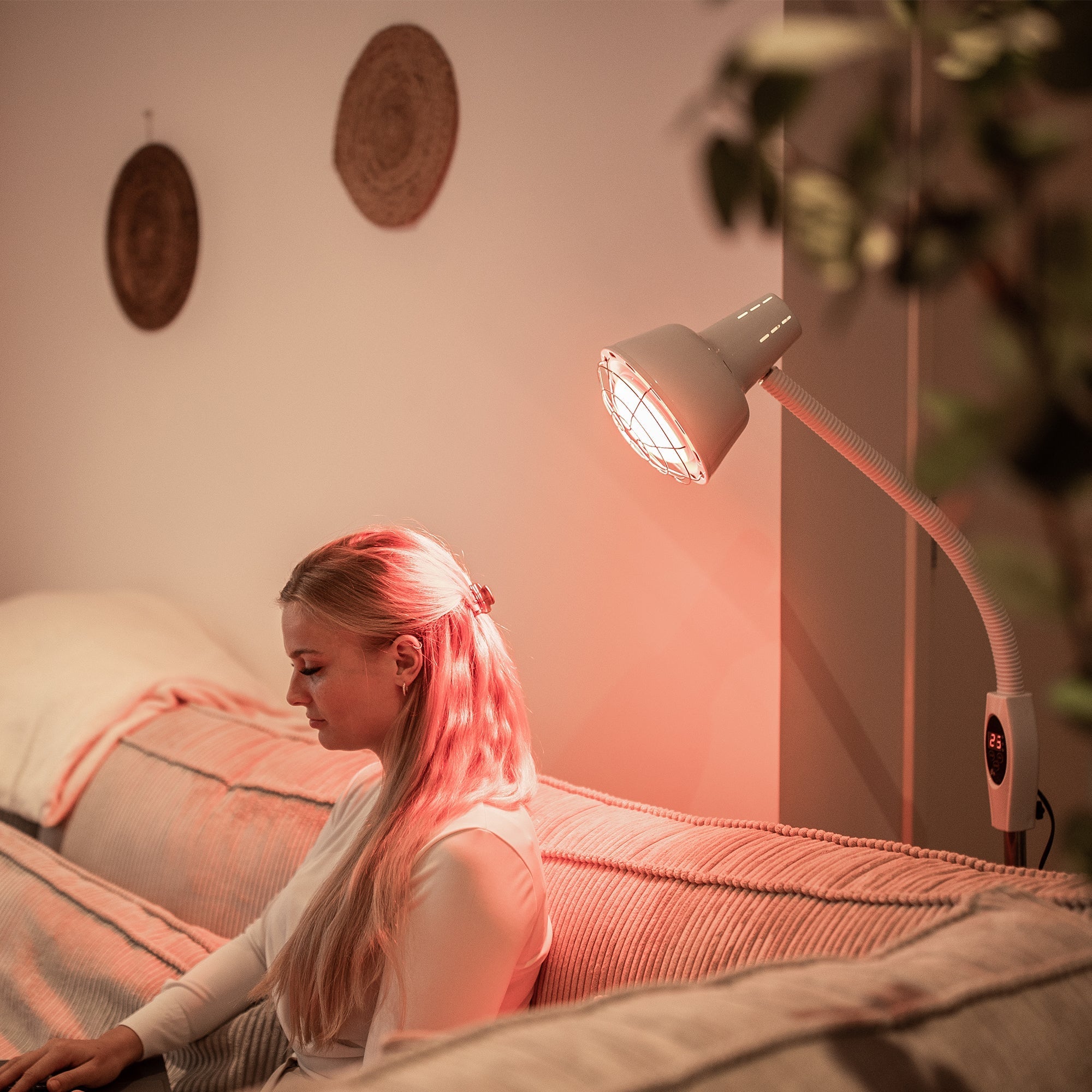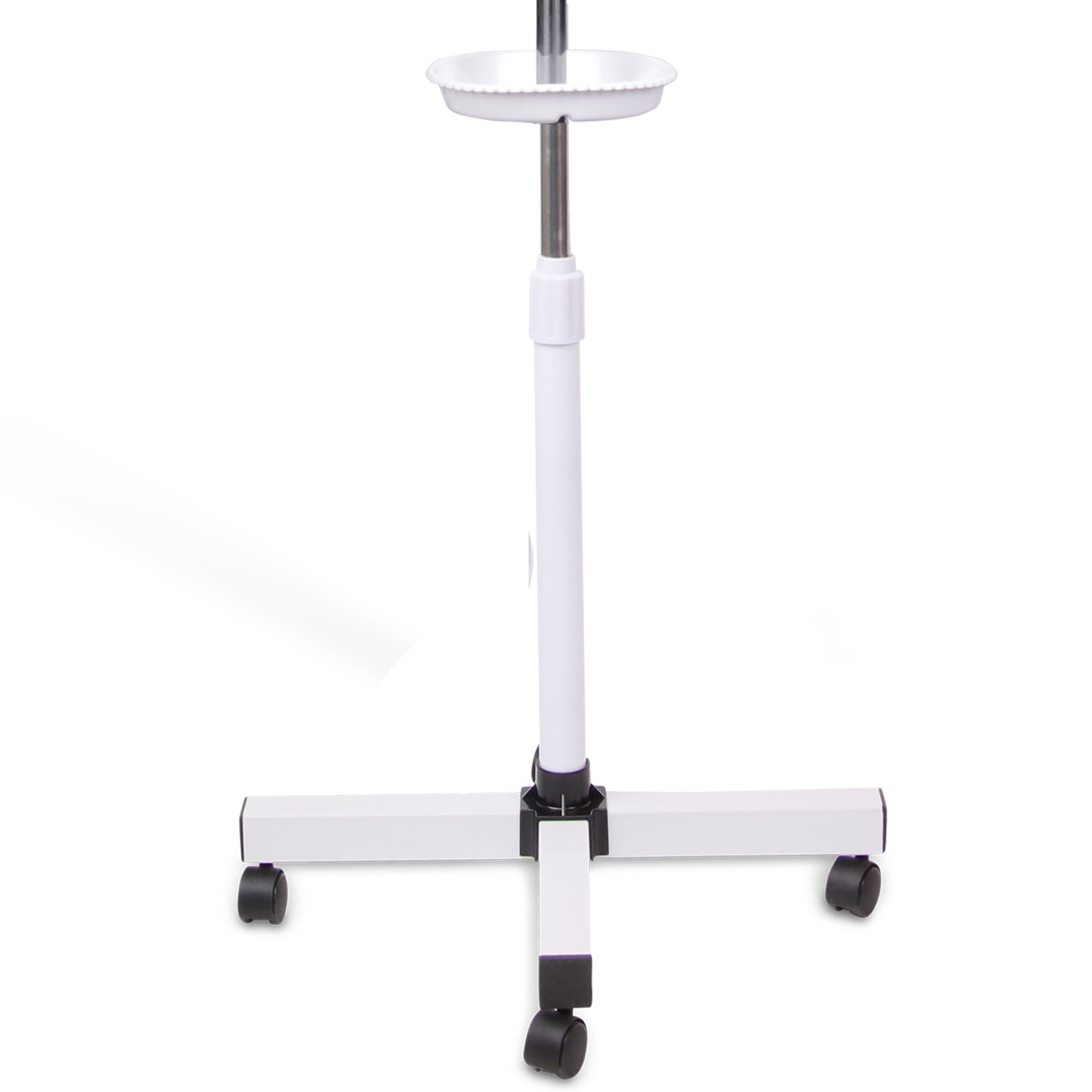 Infrared lamp single head - 506
Flexible arm
Easy to move
Sturdy cross base
Handy container for make-up or other items
IR-A
300W
Economical in use
---
Wavelength : IR-A
Power infrared heater (bulb): 300W
Infrared radiant life (bulb): 3000 hours
Minimum user distance: 60cm
Maximum user duration: 12min
Brightness adjustable: 10 levels
Timer function: Yes
Maximum height: 160cm
Weight : 7KG
Tiltable : 360 degrees tiltable (irradiate multiple body parts per session)
Mains power : 230V-50Hz
Cable length : 150cm
Wireless : No
Warranty : 2 years
Contents : Infrared lamp, infrared radiator (1x), manual, remote control
Certificate : CE
Relieves muscle and joint pain
Relief of chronic skin conditions (psoriasis, eczema and rosacea)
Improvement of skin condition (wrinkles)
Improving sleep quality
Relieves stress
Promotes blood circulation
Promotes the reduction of skin complaints and disorders
Anti-inflammatory
Helps with wound healing
Collagen production
Reduction of scars
Promotes healing
Detoxification/detox
Helps people with fibromyalgia
Stimulate hair growth
Warming up the body
Set your personal preferences and choose from the 10 different modes. Do not use the lamp on the highest setting for more than 12 minutes. We recommend using the lamp at a distance of 60-80 cm.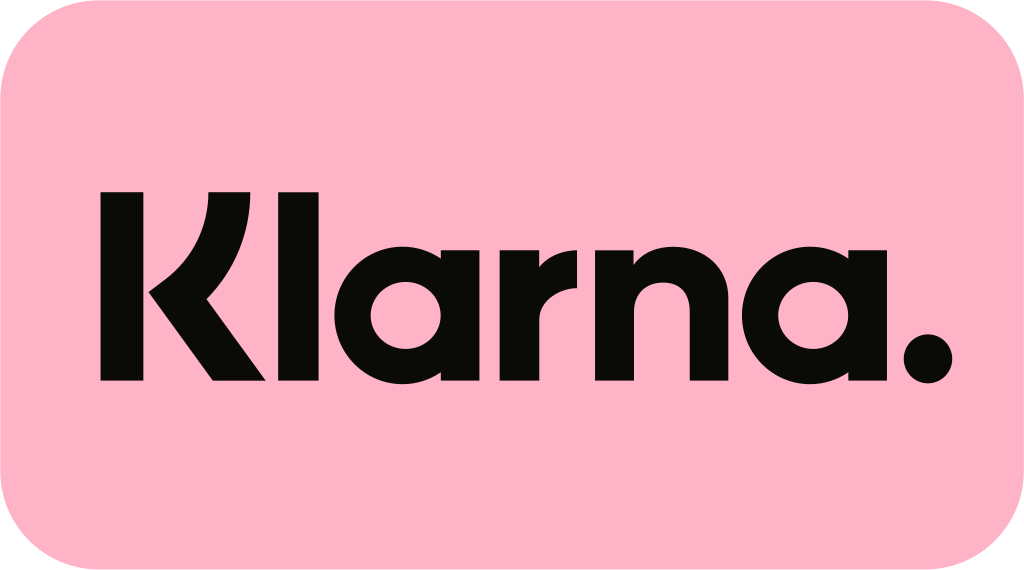 Pay later with Klarna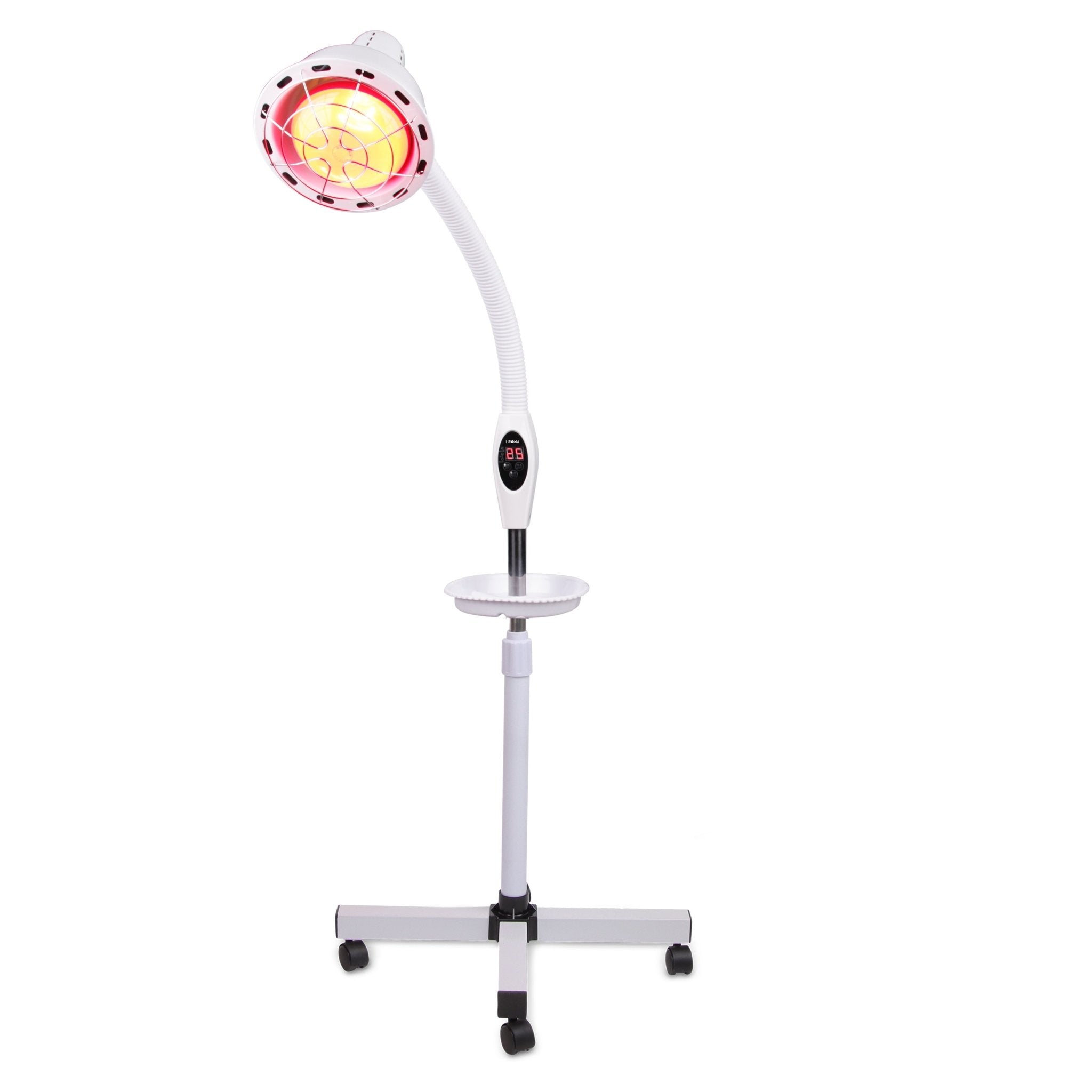 Liroma® Infrared lamp single head
By aiming the infrared lamp at the body, the body warms up evenly and in a balanced way. It is also called heat lamp. The treatment feels pleasant. This is because the light penetrates far into our skin. Because the lamp heats up, the temperature of the body rises. This promotes blood circulation, stimulates metabolism and increases heart rate. This means that waste products are removed more quickly. Infrared lamps are very suitable for skin complaints, muscle pain and joint pain, for example.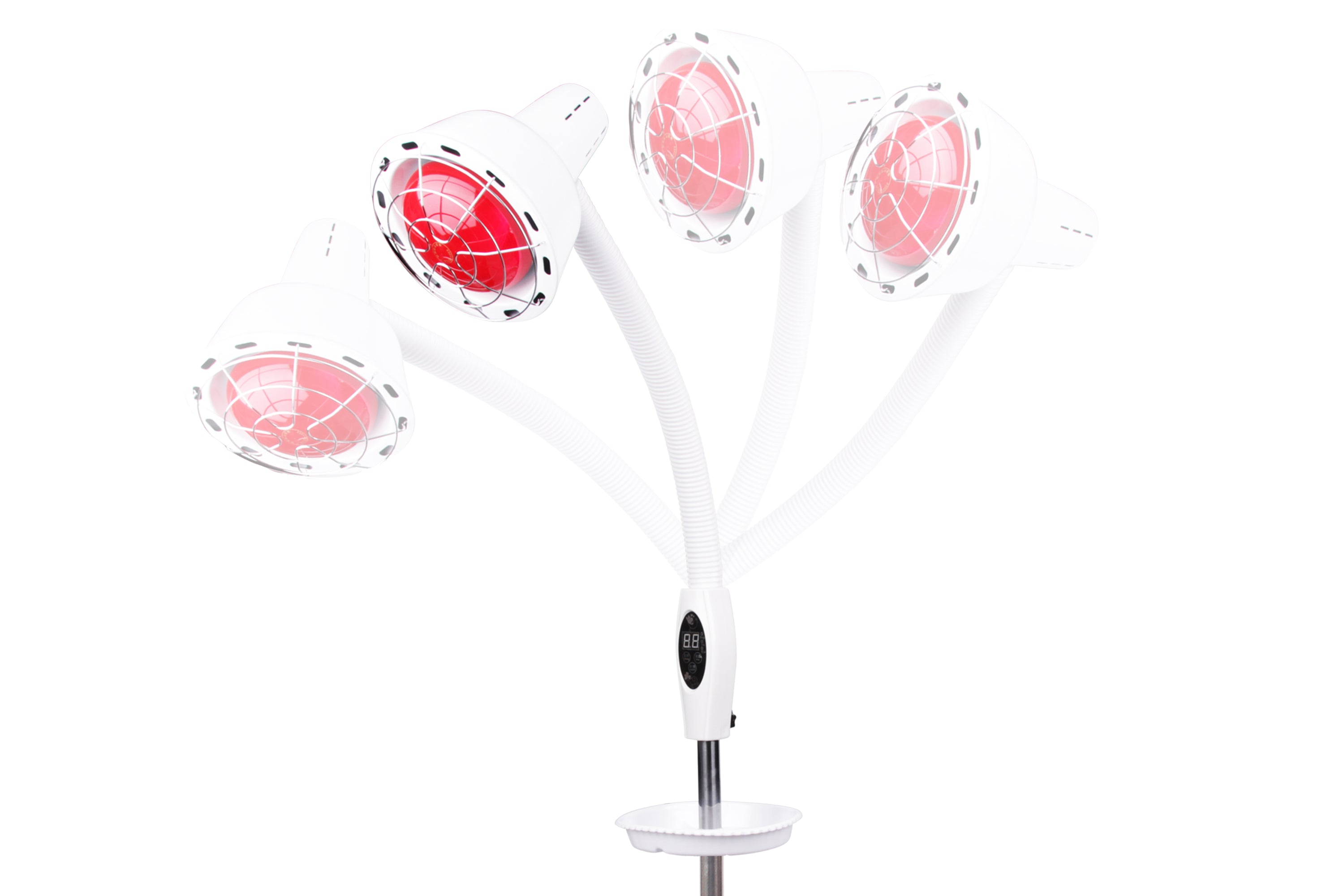 So flexible, treat wherever you want
Point the lamp wherever you want. The flexible arm makes it easy to treat any part of the body. Lie down, stand or sit however you want. You don't have to adapt to the lamp, but the lamp adapts to you. Not only useful at home, but also in a salon or practice in combination with another treatment.

Skin complaints?
The heat lamp gives a pleasant feeling on the skin and helps to reduce skin complaints. Think of Acne and Psoriasis.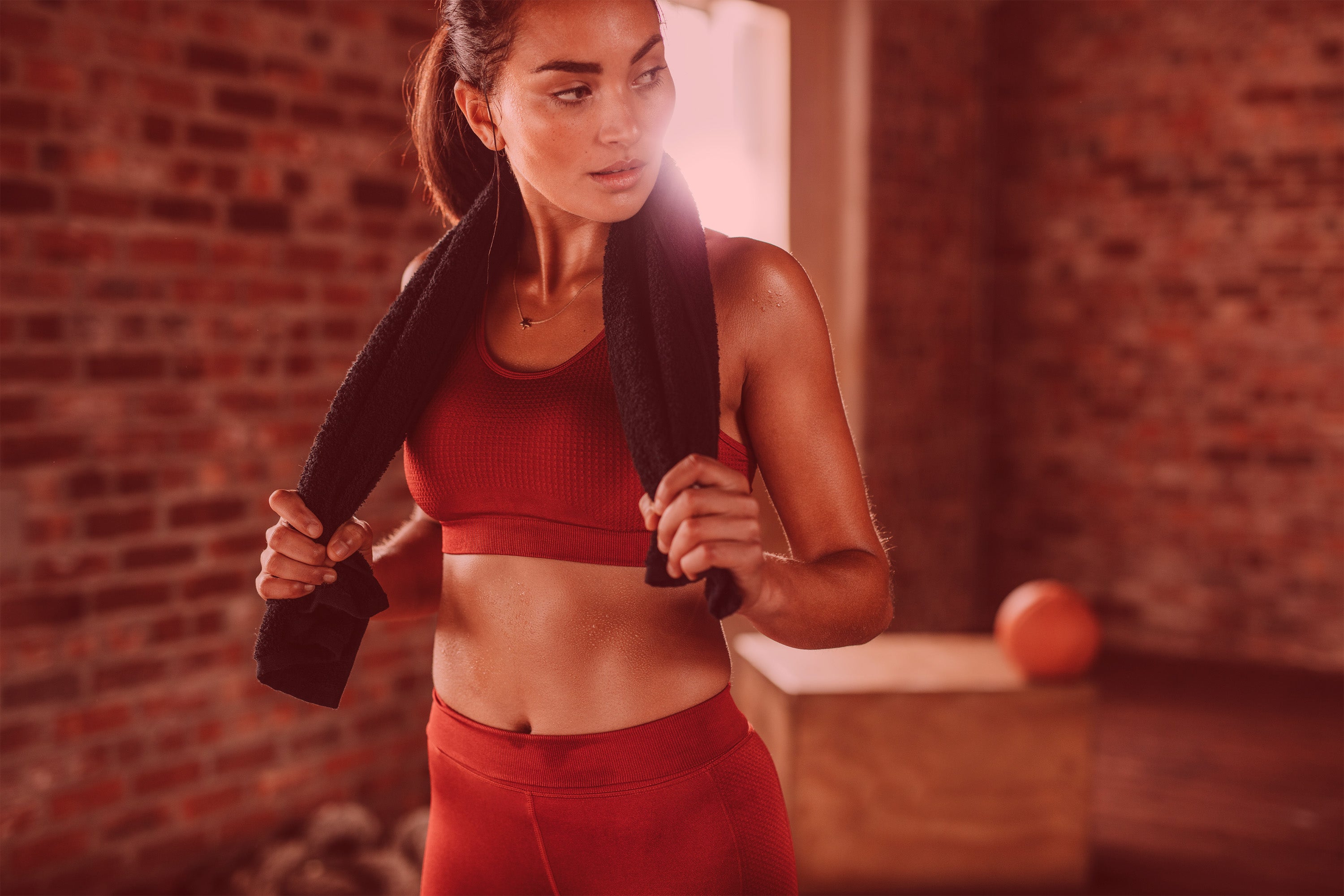 Ideal for athletes
Many athletes benefit from an infrared lamp (heat)
Reduces muscle pain and inflammation
Improved muscle performance
Accelerated wound healing
Improved blood circulation
Frequently Asked Questions
How does an infrared lamp work?

An infrared lamp works by emitting infrared light, a form of electromagnetic radiation with longer wavelengths than visible light. This infrared radiation penetrates the skin and is absorbed by the cells and tissues in the body.

When the infrared light is absorbed, it is converted into heat energy. This heat can have different effects on the body. It can improve blood circulation by dilating blood vessels, bringing more oxygen and nutrients to the treated areas. This can help promote healing and reduce inflammation.

In addition, the heat from the infrared lamp can help relax tense muscles, relieve pain and promote a sense of relaxation and well-being. The deep penetration of infrared light into tissues also makes it useful in relieving deeper pains, such as joint and muscle pain.

Advantages:

Pain relief
Anti-inflammatory
Improved circulation
Accelerated recovery
Promote healing
Stress reduction
Improved skin condition for skin problems and disorders
Improved sleep quality
Improved sports performance
Reduces complaints in diseases such as: osteoarthritis, fibromyalgia and Bekhterev
What do you use an infrared lamp for?

To reduce body pain
To relieve muscle and joint pain and to recover faster
To recover faster after a workout
For improving blood circulation
To improve sports performance
To improve the condition of the skin (through improved blood circulation)
To increase collagen levels
For wound care and reduction of scars
To reduce skin complaints. For example, think of acne, psoriasis or eczema.
To reduce pain complaints (also think of complaints of Fibromyalgia and Osteoarthritis)
To heal inflammation faster
To reduce stress complaints
To sleep better
Treat muscle pain with infrared?

Infrared light can help with muscle pain in several ways:

Improved blood circulation: The infrared light causes the blood vessels in the muscles to widen, allowing more oxygen and nutrients to flow to the muscles. This promotes recovery and can reduce pain.
Relaxation of the muscles: The warmth of the infrared light can help to relax tense muscles. This reduces the tension and stiffness that often accompany muscle pain.
Faster removal of waste: The infrared light stimulates the metabolism in the cells, so that waste products are removed from the muscles more quickly. This can reduce inflammation and speed up recovery.
Inflammation relief: Infrared light also has anti-inflammatory properties. It may help reduce inflammation that contributes to muscle pain and swelling.
How far away should I keep from the infrared lamp?

The recommended distance is 60-80 cm.
Does an infrared lamp also help with skin complaints?

Yes, an infrared lamp can also help with various skin complaints. Think of acne, rosacea, eczema, psoriasis, scars and wrinkles. The deep penetration of infrared light into the skin can have several positive effects:

Improved collagen production: Infrared light can stimulate the production of collagen in the skin. Collagen is a protein essential for skin elasticity and firmness. By increasing collagen production, infrared therapy can help reduce fine lines, wrinkles and promote healthier skin texture.
Treatment of skin inflammation: Infrared light has anti-inflammatory properties and can help reduce inflammation in the skin. This can be beneficial in treating skin conditions such as acne, rosacea, eczema and psoriasis.
Improves blood flow: By promoting blood circulation, infrared therapy can provide a better supply of oxygen and nutrients to the skin cells. This can help promote healthy skin and speed up the recovery process.
General skin rejuvenation: The deep warmth of infrared light can help open the skin pores, removing waste products and allowing the skin to breathe better. This can rejuvenate the skin, give it a healthy glow and improve the complexion.
How long should I use an infrared lamp and how often?

We recommend using the infrared lamps for 12 minutes (max. 20 minutes after building up the treatment) and recommend using the lamp at a distance of 60-80cm. Repeat the treatment at least 3 times a week for best results. Always pay close attention to your own body. If something does not feel right or comfortable, you immediately stop the treatment.

Please note: Instructions from a (possible) attending physician must always be followed!
What is the exact radiation intensity of the infrared heat lamps 506 and 507?

An exact radiation intensity cannot be measured with these heat lamps. However, our products are designed within safe limits (compliance with laws and regulations/certificates). The number of nanometers (the wavelength of the lamp) is 800-1600nm.
What wavelength is emitted by the single or double head infrared lamp?

The wavelength of this lamp is 700 – 1000 nm.
How quickly will I notice improvement?

The speed with which you can experience a reduction in complaints after infrared lamp treatments can vary, depending on various factors, including the nature and severity of the complaints, the frequency and duration of the treatments, and the individual response of your body.

For some people, there may be a noticeable reduction in pain or tension immediately after treatment. Others may experience gradual improvement after multiple treatments. It is also possible that you will only begin to feel the maximum benefit after regular treatments for some time.
Can I treat the lamp in the same spot several times a day?

No, it is not recommended to treat the same spot several times a day. Another area on the body is allowed the same day