LIROMA® Rood licht therapie 300
40 LED lights with 2 different wavelengths.
2 Wavelengths

20 LEDs red light 660 nm

20 LEDs near infrared 850 nm

Radiation 15cm > 100mw/cm2
Radiation 30cm > 62mw/cm2
Electric field (EMF) > 0.00VM (10cm)
Note: The Liroma LED lamps are aimed at LED therapy. This means that the lamps do not radiate heat. Would you prefer a treatment with heat? Then we recommend purchasing one of our heat lamps.
---
Wavelength : 2 wavelengths (660nm and 850nm)
Light source : Red light and NIR infrared light
Product size: 26.5x16cm
Weight : 1.2kg
Number of LED lights: 40
Wattage per bulb: 2W
Radiation (15cm): 100mw/cm2
Radiation (30cm): 62mw/cm2
Electric Field (EMF): 0.00V/M
Magnetic Field (EMF): 0.00ut
User distance: 50 – 100cm
Timer : Yes
Contents : LED infrared lamp, manual, protective goggles, stand and cleaning cloth
Mains power : 230V 50Hz
Standard : Yes
CE certified: Yes
Relieves muscle and joint pain
Relief of chronic skin conditions (psoriasis, eczema and rosacea)
Improvement of skin condition (wrinkles)
Improving sleep quality
Relieves stress
Promotes blood circulation
Promotes the reduction of skin complaints and disorders
Anti-inflammatory
Helps with wound healing
Collagen production
Reduction of scars
Promotes healing
Detoxification/detox
Helps people with fibromyalgia
Stimulate hair growth
You can put the LED 300 on the table. For best effect use the lamp at 50-100cm and 10 to 15 minutes per day for about 5 to 7 days per week.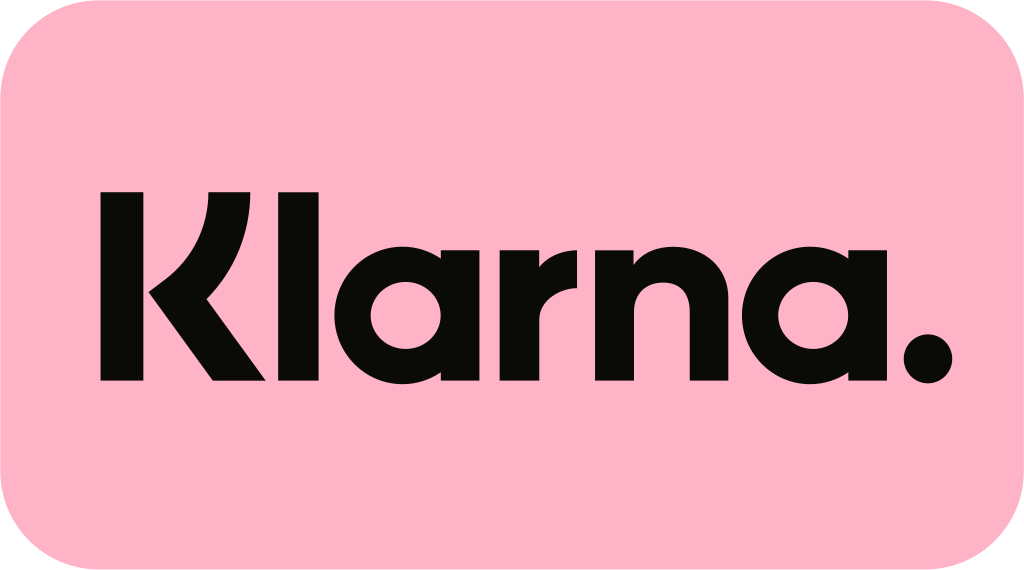 Pay later with Klarna
Liroma® Red Light Therapy LED300
Red light bulbs are LED light therapy devices that emit specific wavelengths of red light. They promote skin rejuvenation by boosting collagen production, reduce fine lines and wrinkles and make the skin firmer. Red light therapy also speeds up the healing process of wounds and inflammation by promoting blood circulation. It relieves muscle pain and joint pain by improving blood flow and reducing inflammation. In addition, it has positive effects on mood, stress reduction and anxiety.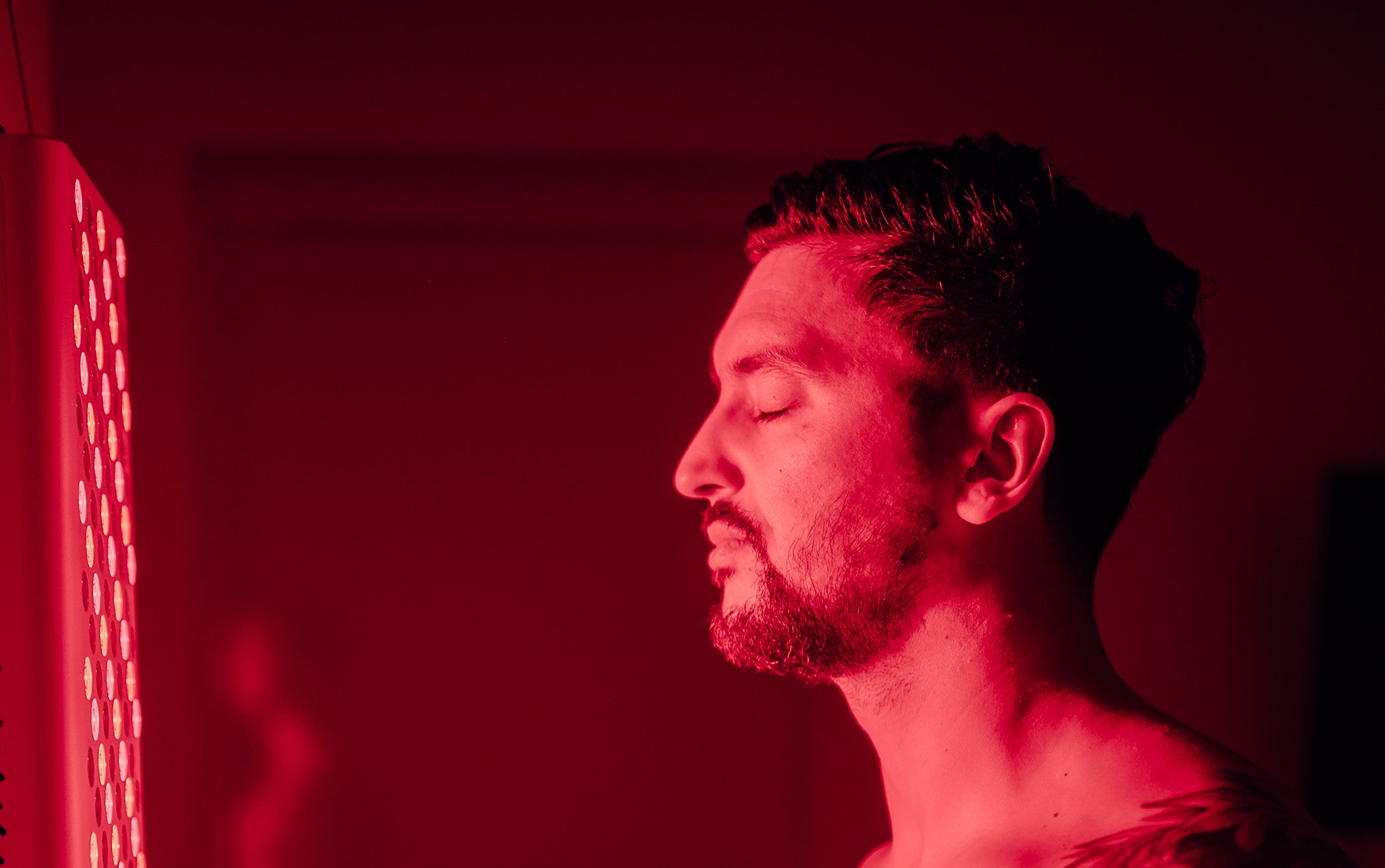 Collagen production
Red light can help stimulate collagen and elastin production, which can contribute to healthier and younger-looking skin.
It also helps people with skin complaints such as:
acne and psoriasis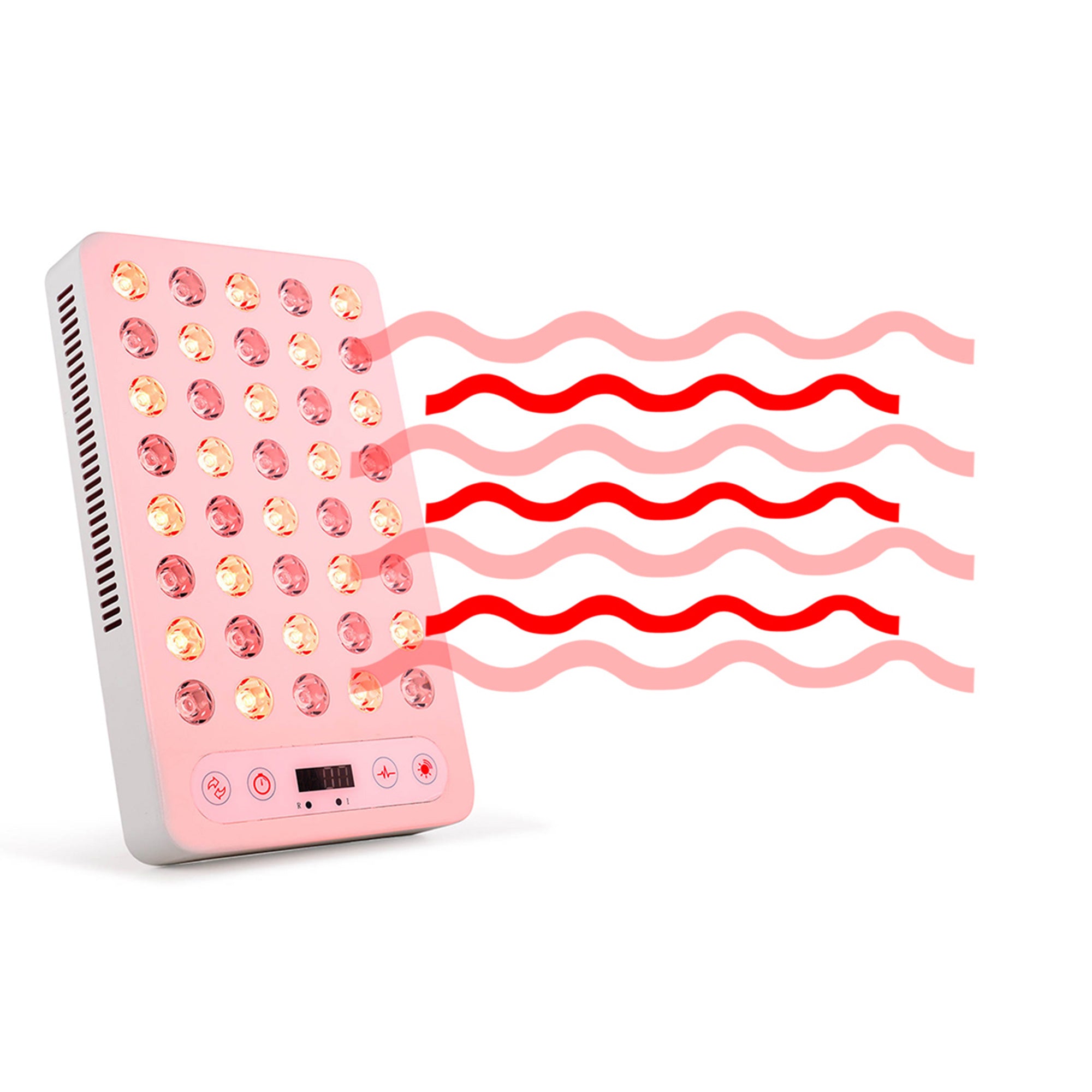 2 Wavelengths
Infrared and Near-infrared go up to 10mm into the skin!
660nm (red light)
850 nm (near infrared)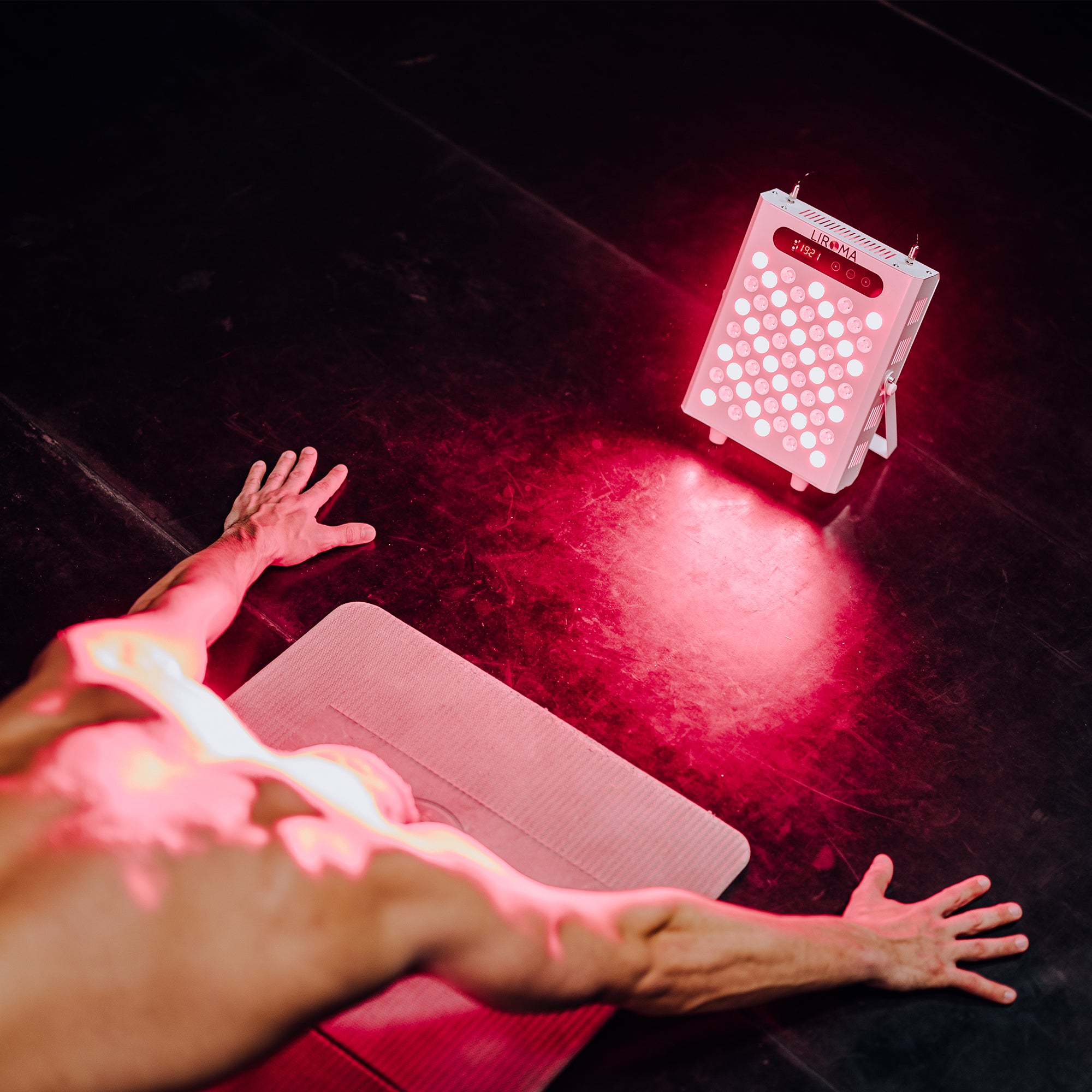 Ideal for athletes
Many athletes benefit from a red light lamp.
Reduces muscle pain and inflammation
Improved muscle performance
Accelerated wound healing
Improved blood circulation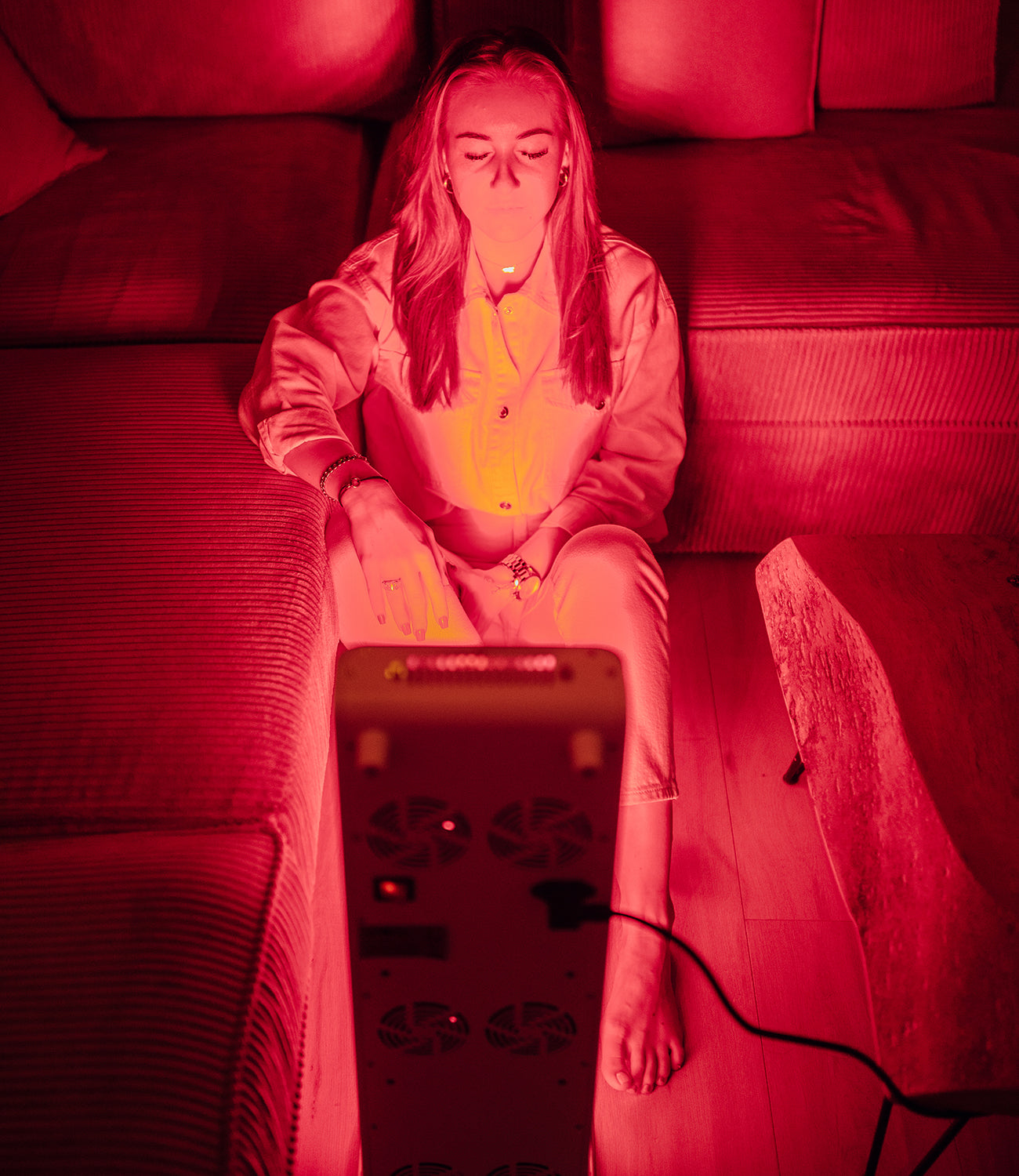 People love Liroma because
It really works!
"I have enjoyed the red light therapy sessions. It has helped with my skin complaints and inflammation in my arms and feet. I will continue to use this product and invest in a larger Liroma lamp in the future. It really works! Thank you Liroma for making this product."
Frequently Asked Questions
What is an LED infrared lamp?

An infrared LED lamp is a special type of lamp that emits infrared light using LED technology. Infrared LED lamps work in a similar way to traditional infrared lamps, but they do not produce heat. They use specific wavelengths of light to provide therapeutic benefits. The wavelengths have been developed based on various scientific studies. Due to these specific wavelengths, the LED infrared lamps are more effective than the heat lamps. These are not provided with a specific wavelength.
I do not feel any heat when using my LED lamp, is something wrong?

No, nothing is wrong. The lamp is focused on LED therapy. No heat is released during this process. The LED infrared lamp is specifically designed targeting the 4 spectrums with specific wavelength.
Which type of lamp is more effective, the infrared LED lamp or the infrared heat lamp?

The LED lamps are of better quality and more effective, because of the specific wavelengths that are emitted. This does not alter the fact that the heat lamps are not effective. For example, do you want to experience warmth because you want to relax? Then the infrared lamp single head or double head may be more suitable. Do you find it difficult to make a choice? Please contact info@liroma.nl . Our team is happy to help you make the right choice.
What do the double chips in the LED lamps mean?

The LEDs are equipped with double chips. This means that the chips with infrared have two spectrums of light in one chip (wavelength 830-850). The other rows, with red light, are equipped with one chip with both the wavelength 630nm and 660nm. Due to the double chips, the lamp has the unique function of being able to function as a four-spectrum lamp.
Can I use the red light and NIR infrared light function of the LED lamps at the same time?

Yes, you can use the functions separately from each other, but also simultaneously in a treatment.
What is Red Light Therapy?

Red light therapy uses specific wavelengths of red light (usually between 630-660 nanometers) to provide therapeutic benefits. The light penetrates superficially into the skin and affects the cells in the epidermis (top layer of skin) and dermis (middle layer of skin). Red light therapy is commonly used for skin rejuvenation, acne treatment, reducing inflammation and boosting collagen production. Red light therapy mainly works superficially, while infrared light can penetrate deeper into the tissues. The choice between the two depends on the specific purpose and desired effects on the body.
Why is one row of LEDs not lit?

The LED panel can be divided into two parts. Half of the lamps emit infrared light and the other half emit near-infrared light. This means that if you have the panel in the infrared position, half of the lights will burn (brightly) red. If you have set the position to near-infrared, the red lights will no longer light up, but the other half will turn "light pink".
How can I use red light therapy to improve sports performance?

We recommend using it before the sport activity. The ideal way is to treat the muscles you will use the most during the activity.